Three Dutch sisters founded the Paula Foundation. They named it after their wonderful and wise mother.
Paula grew up in a family of eight, and cared for our family of six children. Despite her very busy family life, she cared immensely for other people. Paula always found ways to bring comfort to others and support the underprivileged. Paula believed it was her duty to lend a hand to those in need. She also loved to travel and explore the world. We follow her legacy to continue what she started: sisters helping sisters.
How it happened…
Susanne is the youngest daughter. In 2015 she started the Paula Foundation with her two sisters Marja and Lidwien. Since 1998 Susanne has been living and working  in many countries across the globe. Over the years she has established a network of strong, trustworthy women. They live in Zimbabwe, Morocco, Madagascar, Myanmar and Sri Lanka. Though them, the foundation aims to touch lives of women in need in these countries.
Women who care
The foundation is connecting women across the world. We raise money and then give out modest cash gifts to women in need. We focus on women who care to help others. Mothers raising large families, for example, or women who volunteer in their community. These women give so much. We'd like to encourage them with small donations. We also encourage these women to share a small part of their donation.
Our sisters far away
We have established a network of strong, trustworthy women. They are our 'sisters far away' and act as our focal points. They have an extensive network through their work, school, community or church. Through them we know that the cash transfers will arrive exactly there where they're needed.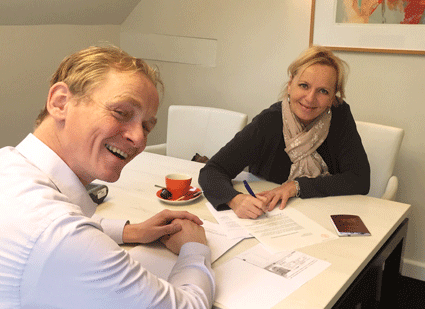 ---
The foundation creation papers being signed by Marja in October 2015. The Paula Foundation is a volunteer driven, non-religious, non-political, non-profit foundation. We abide by the official Dutch legislation concerning transparency and publication of the foundation's income.
The Paula Foundation is registered in The Netherlands, Chamber of Commerce no: 644.33730