"It was no doubt a very special moment for this woman and her family", my photographer friend Heidi reports to me on email from Madagascar. She and our 'sister' Vivianne went last Wednesday to the small house of Isabelle in Antananarvio. Madagascar is one of the poorest countries in the world.
They call her the marvelous grandmother. When Isabelle's daughter died 5 years ago, their father abandoned his children. He dumped them at Isabelle's house. Herself a widow Isabelle did not have the means to support these two little girls. What to do?
Isabelle had to find income. She started washing clothes for other people. This is done in public laundry places. It is very hard work for little pay. She also fetches water for other people. Carrying heavy jerrycans. No work for a nearly 60 year old lady. But she did it all for her grand daughters.
With the donation (100 USD) Isabelle will buy:
– a glass showcase to keep food
– 8 plates
– a frying pan
– charcoal
– oil, veggies and meat
Vivianne will visit Isabelle in to weeks time to see how she is doing.
Isabelle is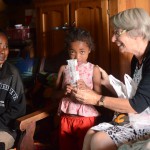 sharing some of her donation with a friend, who has four children and suffers from domestic violence.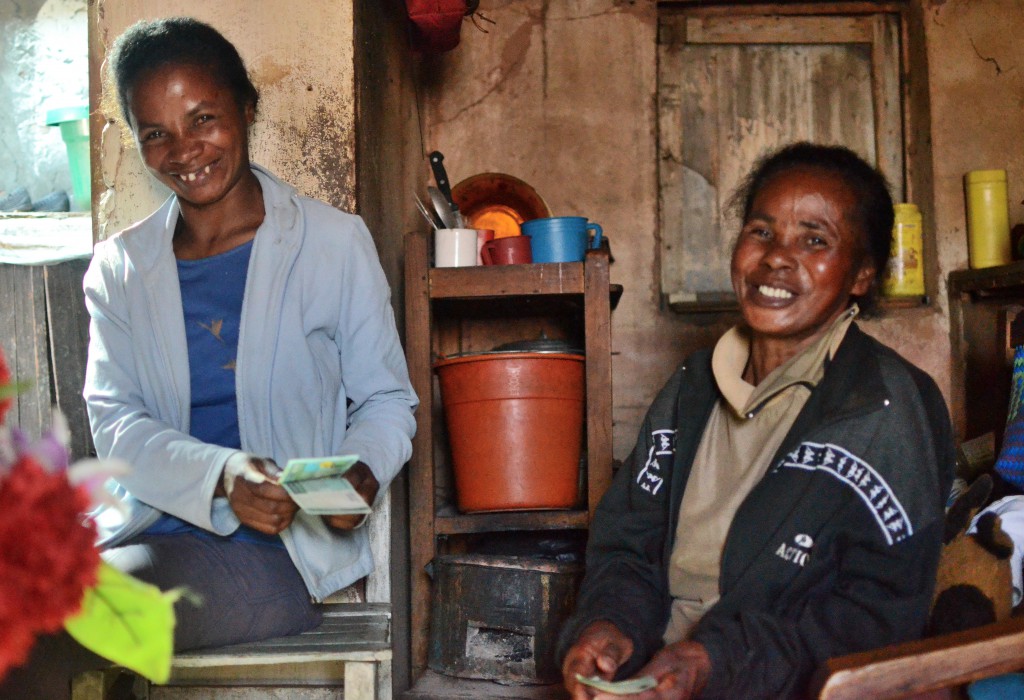 It was an afternoon full of emotion and gratitude. As Vivianne put it: "The poverty in which this family lives is tangible. Let's hope that we support this marvelous grandmother with a little help she deserves!"
Een emotionele middag
'Het was absoluut een gedenkwaardige middag voor deze vrouw en haar familie!' rapporteerde onze vriendin en fotografe Heidi vanuit Madagaskar. Zij en onze 'zuster' Vivianne waren afgelopen woensdag in het kleine huisje van Isabelle te gast, in Antananarivo. Madagaskar is een van de armste landen ter wereld.
Isabelles buurtgenoten noemen haar 'de geweldige oma'. Toen Isabelles dochter vijf jaar geleden overleed, vertrok de vader spoorslags en hij liet zijn kinderen achter bij oma. Isabelle, zelf weduwe, had geen geld om haar twee kleindochters te voeden. Wat moest ze? Waar haalde ze geld vandaan? Ze begon kleren te wassen voor andere families, hard werken voor weinig geld. Ook ging ze water halen voor andere mensen. Zware jerrycans sjouwen is eigenlijk geen werk voor een zestigjarige dame. Maar voor haar kleindochters had ze het allemaal over.
De Paula Foundation gaf Isabelle 100 dollar. Daarmee kocht Isabelle een glazen vitrinekastje waarin etenswaren uitgestald kunnen worden, acht borden, een pan, houtskool, olie, groente en vlees. Hiermee startte ze een handeltje in vers bereid eten.
Op haar beurt gaf Isabelle wat geld aan een vriendin die gebukt gaat onder huiselijk geweld en daarbij haar vier kinderen in leven moet zien te houden.
Vivianne gaat elke twee weken even langs om te kijken hoe Isabelles handeltje loopt. 'Het was een middag vol emoties en dankbaarheid', schreef Vivianne. 'De armoede van deze mensen is tastbaar. Laten we hopen dat we deze geweldige oma een beetje tot steun waren. Dat verdient ze.'